Each person's health is everyone's concern, this is the very spirit of public health programmes.
The more they are connected, the more efficient these programmes will be. The more their approach is humane, ethical and in line with medical concerns, the more they will improve everyone's health and life.
As software developers, doctors, epidemiologists and data scientists, we contribute to the improvement of public health programmes by strengthening the understanding of diseases and by offering consulting services and software tools for public health professionals.
Epiconcept relies on its "Smart Health" offer. It combines skills in e-health, data sciences and epidemiology as applied to public health.
projects

carried out in support of public health actors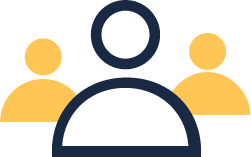 employees

with experience and motivation
countries

where Epiconcept operates
health databases

securely hosted
The Smart Health approach
With its standard softwares or dedicated projects, Epiconcept guarantees:
- A creative force, amplified by its dual core of expertise in health and IT
- A high quality, open and "user centric" approach when it comes to developing projects or choosing suitable products. Learn more
Voozanoo, technical foundation of the Smart Health project
As the application foundation for all Epiconcept e-Health projects, Voozanoo is constantly optimized in a "test and learn" approach. For more information, check our dedicated section.
Epiconcept, personal health data host
The Voozanoo platform is certified as a "personal health data host". Epiconcept is a member of the French association of personal health data providers (AFHADS).
Epiconcept complies with the rules induced by the DGMP.
Advanced data processing, algorithms and analysis: the Data Science unit identifies recurring issues and ways to optimize public health programs. It supports customers' data exploitation by offering services and solutions such as:
- Structured databases analysis for the reporting of epidemiological or biostatistical data
- Ad hoc requests: Feedback Explorer (semantic analysis module) and Social network analysis module (identification of entities/ontologies, sentiment analysis).
It also provides a SaaS software suite offering a Big Data (Hadoop, Spark, Zeppelin, Lucene) and a technical platform (text mining, data mining, web crawling, social network connectors).
Combining e-technologies and epidemiology, its expertise and consulting activities cover:
- Applied research: study coordination, drafting of research protocols, coordination of multinational research programmes (Europe), scientific communications
- Services: biostatistics and data analysis, training
- Epidemiological surveillance and response: support to outbreak investigation, setting up and coordination of surveillance networks, programme evaluation
Information systems
Personalized support
Low code offer
Research
Post-marketing vaccine evaluation studies Disease registries Population cohorts Medical databases
Epidemiological Surveillance
IT platform for surveillance Set-up and evaluation of surveillance systems IT solutions Mobile health
Alert & Response
Task force provision Tools for case & contact management Tools for response coordination Management of attack victims
Prevention
Studies on vaccine performance Assessment of processes Tools for studies on psychosocial risks at work
Screening
Tools for cancer screening programmes Tools for STI screening Tools for Neonatal screening Tools for Tuberculosis screening
Care coordination
Custom tracking plan Computerised patient record Multidisciplinary consultation meeting Practitioners Networks, second opinion
Training courses
Software training Training in Epidemiology
Solutions for international solidarity organisations
Human resources management Inventory management Accounting in the field Computerised patient records
Data science
Biostatistical analyses Free texts analysis Adaptive recoding of responses Social media debates Analysis and monitoring Data science project management Big-data architecture
Guillaume Jeannerod
CEO
Thomas Czernichow
Director of the e-Health products and services division
Valérie Nancey
Epidemiology Chief Financial and Business Development Officer
Etienne Sévin
Software architect
Loïc Flachet
Epiconcept OI Director
Our news
Neonatal MCAD deficiency screening integrated into Neonat
Neonat, Epiconcept's neonatal screening management software, now takes into account MCAD deficiency screening, which was adopted on December 1, 2020 for all infants in France.Since June, the installation of this new screening software has involved training sessions and travel for deployment and handling in the centers using the software.Installed in about twenty sites since 2004, Neonat has undergone a first major evolution in 2012 with the addition of a Voozanoo…
Publication of the first I-Move COVID-19 surveillance bulletin
The first monitoring bulletin of the I-Move COVID-19 network, including data from nine hospital monitoring sites in seven European countries, is published on Zenodo.org, an "Open Science" publication portal built and developed by researchers. The data collected covers the period from February to August 2020. The I-MOVE COVID-19 consortium (coordinated by Epiconcept) was created following the European Commission's call for proposals H2020 "Advancing knowledge for the clinical and public health…
Deep Piste, Health Data Hub pilot project approved by the French National Commission on Information Technology and Civil Liberties
The Health Data Hub announced at the beginning of December 2020 that it had reached an important milestone with the authorization by the French National Commission for Information Technology and Civil Liberties (CNIL) of four pilot projects, including Deep.piste by Epiconcept. The CNIL authorization conditions effective access to the data required to conduct the project and therefore allows its official launch. Deep.Track: Improving Breast Cancer Screening with Artificial Intelligence Deep.piste…
We commit to respond within 48hrs